By Ginanne Brownell and Maeve Madden
Summer is here, but not all things are as usual due to the Covid-19 pandemic. Many summer residents of Benzie County, Michigan are assessing what will be safest for their families as well as the overall community this season. While some have made the heart-breaking decision to stay away this year, others have decided that the benefits of the trip outweigh the risks of travel.
In Europe during this Covid-19 crisis, borders that no longer existed—like between Austria and Slovakia—have sprung back up again much to the chagrin of European Union nationals. And while this does seem rather shocking to those who have gotten used to borderless journeys between countries, it was not that long ago where checkpoints were just a rather dull but ubiquitous part of summer travel to get to heaving Italian beaches or charming provincial French towns.
But imagine if the same had been implemented in the U.S. between different states – unlikely, yes, but strange things have abounded over the last several months - or even between counties in the same state. There were rumours of blockades that might go up on the East Coast, while some New Yorkers who have weekend residences in Rhode Island were visited by the state troopers and the National Guard asking how long they had been at their homes. Interestingly enough, that precedence was set "Up North" back in 1919 during the Spanish Flu pandemic between Grand Traverse and Leelanau Counties.
The flu came in three waves in 1918: the first appeared in the spring of that year (called "three-day fever"), the second in late summer and into the autumn was more deadly, and the third wave towards the end of the year and into early 1919 became less potent. There were other smaller waves that arose throughout that year and even into 1920. According to Mlive.com, state health records from that time show that more than 15,000 people died of the flu in Michigan between October 1918 and April 1919. (To put it into perspective to show how lethal that influenza strain was, in 1917 there were only 544 deaths from the flu). With an estimated population in Benzie County of just under 10,500 in 1918, there were a total of 118 deaths that year, up just three percent from 1917. Between January 1918 and April 1919, Benzie's monthly death toll went from a low of three in March to a high of 23 in December.
Northern Michigan had implemented lockdowns and quarantines on October 1918 when a 14-year-old boy from Buckley died from the flu. The schools in that town were closed, as were pool and billiard halls while public gatherings were cancelled. Shoppers were asked to "keep moving" while they were in stores with other people. Meanwhile, according to a Record Patriot article (https://www.recordpatriot.com/columns/article/Historical-Society-The-horror-of-the-Spanish-Flu-14316396.php) that month in Benzie County a Frankfort doctor reported 16 cases of the flu, including the teachers for 4th and 6th grades. In Benzonia the schools and the Congregational churches closed down for two weeks.
In Traverse City there was a special wing in the State Hospital (which these days goes by the fancy moniker of "The Village at Grand Traverse Commons"), set up just for flu patients. However, the Record-Eagle newspaper reported that there was concern over the behavior of some of the staff who, on their off hours, went cavorting in dance halls, visited theaters and played billiards. "During working hours, attaches wear anti-flu masks and exercise caution to prevent the spread of the disease [but] when night arrives, some slip off their masks and go down town [sic] where they mingle freely with crowds with total disregard for the safety of others."
Red Cross canvassers went door to door across the city trying to assess an accurate account of those that were sick. For those who were ill they had their houses marked and people living there were told to observe quarantine rules. As things went from bad to worse in Traverse City, those in Leelanau County watched on in horror. During the last wave more than 250 cases of the flu were diagnosed across Leelanau County in early January 1919. According to a 2018 story in Northern Express to mark the 100th anniversary of the pandemic, (https://www.northernexpress.com/news/feature/the-great-flu-pandemic-of-1918 ), locals blamed it on people coming to the area from Traverse City so they petitioned Lansing to quarantine the county so that anyone coming into Leelanau would have to agree to be detained for four days to show they were not carrying the flu. A state health department official reprimanded local officials in Traverse City over what he saw as their reckless regard stating that they had not handled the situation properly and "you have laughed at us and ignored our suggestions and orders." By early February the number of deaths had dropped and borders between the two counties were lifted.
In terms of the Congregational Summer Assembly, there was barely a mention of the Spanish Flu in the summer of 1918 and activities continued as planned. Julie Pray Walton did some research in the CSA Archives and found that the Board of Trustees (BOT) met in Chicago at the YMCA in January, February, April and December of that year, presumably to discuss what to do both about the summer season of 1918 and for 1919. There were also BOT meetings at the CSA dining hall in August and they designated August 22nd as the "Community and Patriotic Day", which included inviting the wider Beulah, Benzonia and Frankfort communities to join in the festivities.
According to Walton's research, "There is no mention, not a single one, of Spanish flu, or of taking particular precautions as an organization to decrease infection risk." Those who have had renewed interest in the history of the Spanish Flu at the time will note, part of that could have been because there was censorship in the press. John M. Barry, the author of "The Great Influenza" wrote that, "As terrifying as the disease was, the press made it more so. [They] terrified by making so little of it, for what officials and the press said bore no relationship to what people saw and touched and smelled and endured. People could not trust what they read." (https://newrepublic.com/article/157094/americas-newspapers-covered-pandemic).
Walton found that the spring 1918 meetings at the YMCA in Chicago were particularly concerned with the Pere Marquette railroad schedules, and whether or not enough wood and ice had been cut and stored to last the season. She also found that there was a concern over whether it would be possible for the "personal closets" filled with "night soil" [which she assumes were shared toilets] could be cleaned better/more often in the upcoming summer.
There was also mention of how to deal with ongoing debt issues. The treasurer was nervous that the CSA was not paying/could not pay its bills. And there were mundane staffing issues over concern of how to go about finding a new local manager as the existing one had informed them that he'd like to resign after many years of service. "So, the CSA remained open and the meagre minutes make no mention of whether or not fewer families than usual made the trip to the CSA," Walton noted.
Certainly, this summer will be one for the history books, as it will be the first time in the CSA's history that programming will not be functioning like it has for the past 118 summers. But the expectation of the Board of Trustees is that by closing the CSA this summer, it could help prevent the spread of Covid-19 not only to those who still decide to make the journey to Pilgrim, but to the wider Benzie and Northern Michigan communities as well. And by supressing it this year, the hope is that things like the tennis tournament, the operettas, church services, swimming lessons and potluck dinners will happen again with renewed enthusiasm next summer and forever onwards.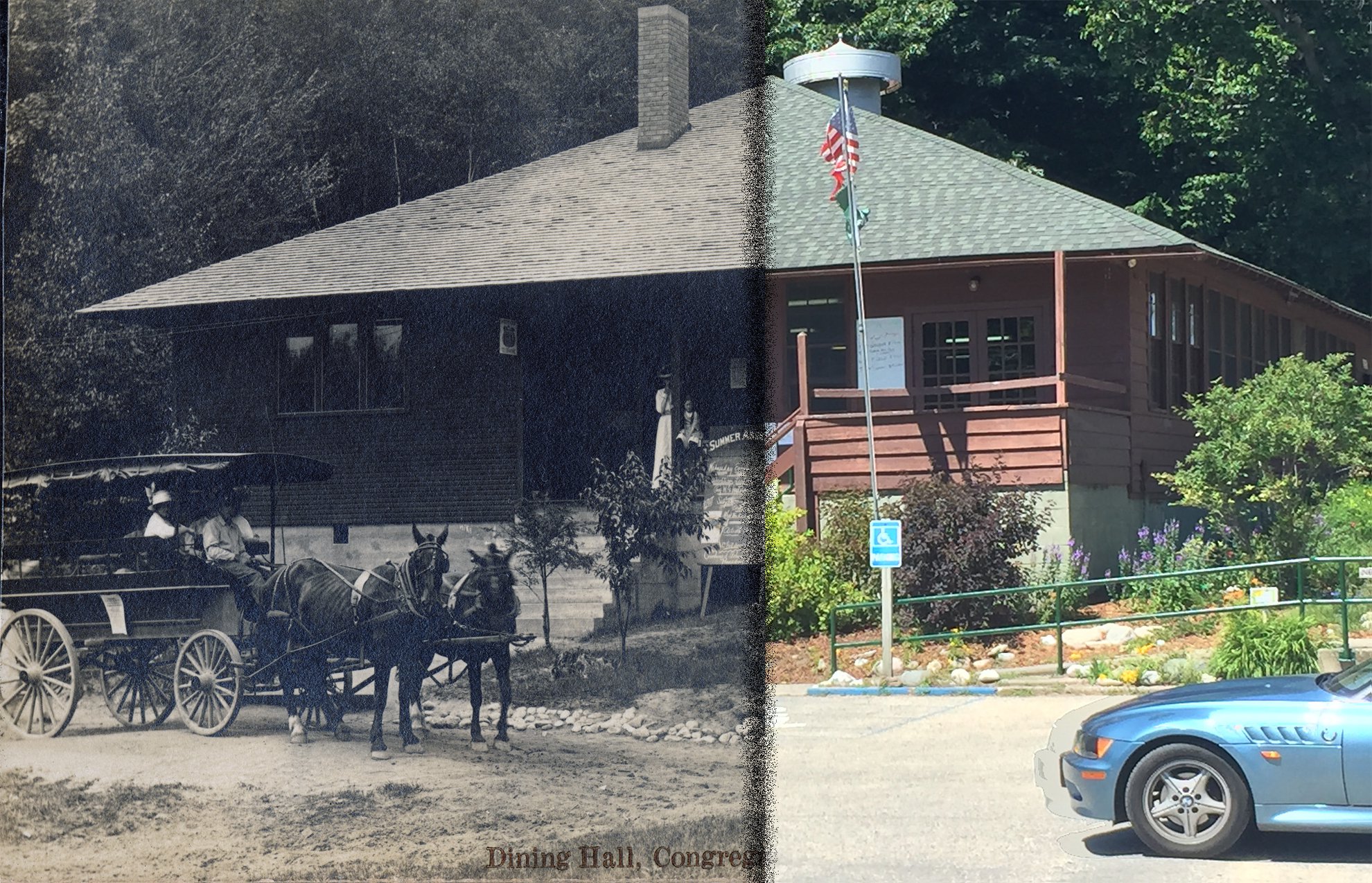 This summer will be one for the history books at the Congregational Summer Assembly, as it will be the only time in 119 years that they have kept it closed due to the current pandemic.
About the authors: Ginanne Brownell is a London-based journalist who writes about arts, culture and development for publications including the New York Times and CNN. She is a lifelong summer resident of Benzie County. Maeve Madden is an incoming Junior at the University of Dayton. She studies Communications and Marketing and has spent summers up north for 19 years. This summer she is the Congregational Summer Assembly's Communications/Archives Intern.