By Fran Somers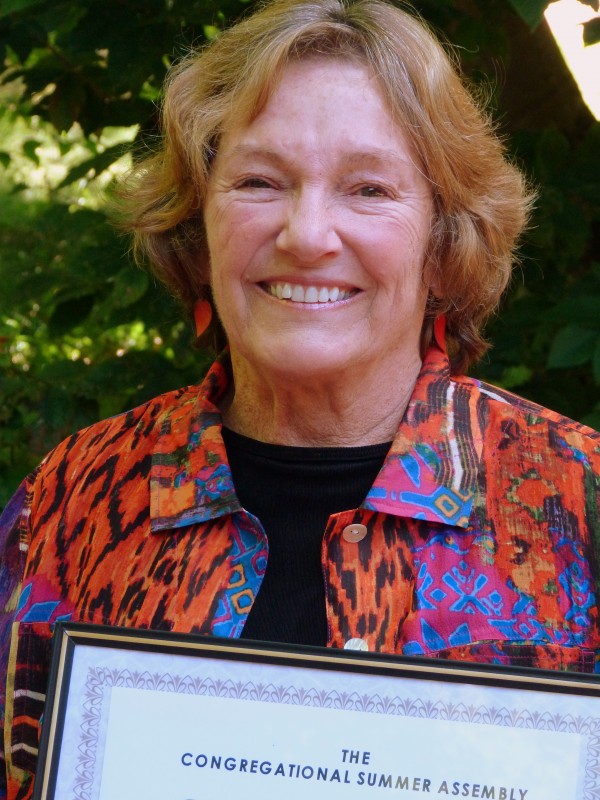 As a child, Jane Cooper laid in her bed on misty nights and listened to the deep bellow of the Point Betsie foghorn. Two blasts every 30 seconds, answered by the Frankfort foghorn. The comforting sound lulled many in the CSA to sleep. Until 1974, that is, when the foghorn was dismantled and sold off in pieces.
Now Jane is the CSA archivist and she's been searching everywhere for a recording of that foghorn. She wants it for the movie she's creating for next year's History Night (Aug. 4, 2023). The event is usually held every four years, but Covid sidelined it in 2000 and 2021, and the archival team needed this year to prepare.
"Because it will have been seven years since the last History Night, there will be many people who have never been to one," Jane said last week. "We plan to focus on being sure that the things people expect to see—Catherine Stebbins' albums, operetta pictures, memorabilia from the dining hall and lodge—are in good shape."
The Stebbins albums are a prized possession. Stebbins took photos as a teen of the earliest CSA gatherings in tents. Later, as the first CSA archivist, Stebbins put her photos into albums for everyone to enjoy. The photo-documenting tradition was continued by others, including Jane's father, and then Jane, after her father died.
But the movie could be a new fan favorite. Jane is sorting through hundreds of photos taken by her father, her own stockpile, and oral history team photos to create a video slide show with audio of familiar local sounds. Jane hopes the movie will "tickle the memory."
Loren Weiss, the Communications and Archives assistant, is cooking up a "Then/Now" exhibit of local landmarks that can be added to year after year.
Being an archivist means thinking about the future as much as the past.
"We're in a transitional period. For History Night, we'll be putting out the operetta albums that go back decades, but in 20 years, will people want to come back and see digital pictures?" Jane commented. Digital is the only way to survive when you are a small museum with limited space. Within two days of the Children's Operetta, Jane began cataloging the many digital photos that were submitted. She plans to print a selection for a physical album; the rest will be cataloged digitally.
All of the CSA's history—hundreds of photos, 70 oral histories dating to 1980's, playbills, legal opinions, back copies of the Assembly News, and more--live in Pilgrim Place, the modest cottage near the Woods tennis courts. The building that once housed the laundry facilities for the Assembly lodge, now holds hundreds of objects and tens of thousands of digital items. Two groups regularly meet there, and a handful of visitors stop by weekly looking for old operetta photos, plat maps to resolve property disputes, minutes from a meeting on a controversial subject, or just to browse.
"Almost all of the albums and cottage histories are digitized now," Jane said. She's able to print out research for someone on their cottage or minutes from meetings from the early years. "The middle part of Assembly history still needs to be digitized."
She's still researching the best software to recommend to the board that will make access to the digital records more widely available. Privacy is the biggest stumbling block.
Jane comes to this work naturally--she's a consummate record-keeper. Every day, she records the air temperature at her cottage, and she or her brother, Bob, take the temperature of Crystal Lake. For the record, "As a general rule, the lake gets warmer sooner and stays warmer longer than it used to."
But she was lassoed into committee work. "I was pushing a baby carriage and Rachel Murmann came running out of her cottage. She asked would I be president of the Women's Association next year. I'd never even been to a coffee," Jane laughed.
It's been non-stop CSA volunteer work since then, resulting in a Citation for Long and Valued Service to the Assembly in 2013.
"I've never been able to come up and just be here," Jane says. "I've always had friends who sleep in and go out to lunch, then lie on the beach. That sounds really nice . . . and I never would enjoy doing that."
She joined the CSA choir at 12. Began working in the Assembly dining hall at 15, then worked in the office. Got married, had two kids, earned an advanced degree, had a demanding career in management development, and in retirement has kept busy on boards and alumni associations in Ann Arbor. This is a person who swam across Crystal Lake three times, the last time at age 71. She would never read a book during the day because that seems too indulgent, but she will allow herself to needlepoint at night while listening to an audio book and watching a sporting event with the sound off.
Now 83, she worries about overstaying. "I'm trying to think of someone who would be a reasonable heir apparent. I do believe in succession planning." And she wants to ensure future generations appreciate the CSA.
"I really like the thought that we're maintaining the old traditions of the Assembly. I worry kids don't learn history, they don't go to museums. I want it to be a place that makes them feel connected so they'll want to carry on that knowledge to the future.
"Last week a longtime CSA member said her grandchildren wanted to see Pilgrim Place," Jane said. "They asked wonderful things like, 'why did the railroad stop having trains come here? What was it like when the lodge was here? Why isn't it still here?"
A few weeks earlier, Jane had given a talk at St. Andrews Church in Beulah and attendees had asked the same questions. "Places like the Assembly popped up all over the Midwest. Most that survived are just resorts; they aren't a community," she explained.
"How do you make it something that's attractive and desirable to young people now without preaching that it's very special, so they don't just want it to be an Airbnb? I think archives play a very important part."
October is American Archives Month. Does Jane have any special requests?
"I'd like people who are thinking about archives to find one example of how they can put themselves into the history that's represented at the archives. For example, someone might have lived at the lodge, someone took tennis lessons from Lysle Butler, or understand how it is to start an adventure like the Assembly, have a vision for it and see how close they can come in 100 years to having that vision still be valid."
Or maybe you could just find her a nice recording of the Point Betsie foghorn.
­­­­­­­­­­­­Pilgrim Place is open from 10 a.m. to noon Wednesdays or by appointment. Email Jane at .
Assistants to the archivist are Nancy Gosnell Gillett, Carol Nethercut Edmonds, and Judy Dawley.